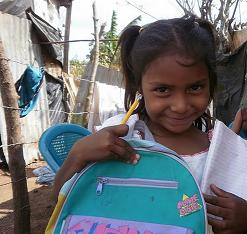 We are always in need of:
Computers and funds for transporting computers
Teacher salaries
Kindergarten Assistant salaries
University scholarships
High school sponsorships
Dental visits for children
Eyeglasses and examinations
Educational toys and games
Arts and craft supplies
School excursions
See below for costs and information
---
Computers. We are taking computers out to six schools at the moment. Children in grades one and two get one 45-minute lesson per week, using the computers as a learning tool to help them with reading and with math. The benefits are tremendous, and we really want to extend this program. Transporting the computers out to the school each day means that we can secure them (and recharge them) in our office when not in use, but costs nearly $60 per week. When we extend the program, the cost will go up to about $100 per week. We use local taxis to take the computers out to the schools.
Teacher salaries. The schools are badly understaffed, and sometimes four grades or 50+ children share one classroom. One teacher, one year: $2,300.
Kindergarten Assistants. A local person to assist in overcrowded kindergartens. $350 per year.
University scholarships with stipends. We started this program in 2008. A young person can attend university (which many in Nicaragua do on weekends only), and during the week they assist in the schools alongside our volunteers and receive a stipend of $80 per month. $1,360 per year for five years gives a young man or woman the opportunity to continue with a higher education, and contribute to their families needs in the same way that they would be able to if they held an unskilled job. The added benefit is that they are spending their time gaining valuable experience in education, administration, accepting responsibility in the workplace, and at the same time being a wonderful role model giving hope to all the other young children in.
Secondary school sponsorships. The children attending the schools we work in come from families who do not have the resources to send them on to high school once they have completed primary school. In Nicaragua only 35% of children complete primary school. One reason is they know they cannot afford to continue their education. We have organized a program of sponsorship for children who complete primary school to attend high school. Cost per student is $185 per year for five years. This includes school fees, books, uniforms, and more. Expect a small rise each year.
Dental visits for the schoolchildren. We have access to an excellent dental clinic provided by Keep Dentistry Alive, a group from New Orleans. When we take children to this clinic, we only have to pay for the materials, and the prices are very reasonable. We also pay bus fare for volunteers to take six children each afternoon from different schools. We spend $2,000+ per year on dental visits.
Eye examinations and glasses. We take children who have been identified by school eye tests to the optician as needed. Many of these children need eyeglasses, and others are found to have parasitic infections of the eye. These children have been saved from permanent damage to their eyes. It is imperative that we can continue with this program. Average cost per child is $32.
Games, puzzles and toys. We need toys for kindergarten/preschool students that help develop hand/eye coordination–none of the children here have lego, building blocks, or any educational toys in their homes–they play pretending to be riding a horse with a stick and a string. Most have never held a crayon or seen a book until they start school. Simple jigsaw puzzles, numbers games, dominoes are other useful items. It doesn't matter if these things are 'pre loved,' they will definitely be appreciated here. Cost depends on postage/purchase etc. There is a limited selection of this type of toy available here for us to buy if you prefer to send money.
Arts and crafts supplies. The government supplies very little in the way of art supplies to the schools, and the parents are not able to purchase anything to help with this. Arts and crafts classes not only stimulate the imaginations of the young children it also helps development of manual dexterity which is vital to their handwriting skills. Colored paper, paints, glue, scissors etc. are all very low priced here. In addition to purchased materials, we try to make use of recycled products, newspaper, plastic bags etc. plus take advantage of the many different seeds and wildflowers that abound here. $10 per month would be enough to cover the costs for an average sized class.
School excursions. For several years now we have been able to take children from the schools on a once a year excursion. We take children from grades 2, 4 and 6. The aim is that they can see something outside their village, so that they have an exciting day to look forward to, and that progression upward through the grades of school bring some reward. Averaging $3 per child. All contributions are welcome. One of the most repeated suggestions from volunteers who complete an exit form is to take children on more field trips and excursions – most of these children living in poverty know nothing whatever of the world outside their villages.