La Esperanza Granada has hosted a lot of groups over the past years and welcomes your group to join us. Whether you are a service club, school group, alternative spring-break group, 'voluntourism' company, or just some friends looking to help, you can get involved and help make a difference here.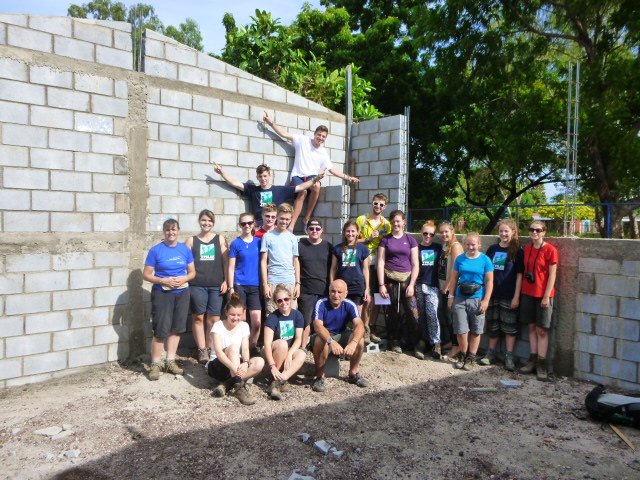 In the past, visiting groups have taken on projects from planting a garden bed to building classrooms. These groups also interact with the school children through sports, craft projects, English tutoring, and more. Whenever possible, we encourage groups to take classes on an excursion with them. Field trips allow your group to share the excitement of having a very special day in a foreign country, while also providing an opportunity for the children to see the beauty of their own country. Many children might not see beyond the borders of their barrio and Granada otherwise.
Your group can be any size.  Past groups have worked anywhere from one morning to an entire month. There is so much that needs to be done in the schools here, we can always find something that will suit your group´s needs.
Groups pay for their own food, accommodation, activities, etc. (as do our other independent volunteers), and are expected to cover the cost of all materials used in their work. We also ask for a small contribution to our administrative costs. If you wish, we can help you with booking accommodations, arranging airport pickups, organizing tours, etc., or you can simply let us know what times you will be available to work and make your own arrangements – whichever suits your group best.
We have local volunteers (Ayudantes) who will work along with your group. Planning and organizing gives valuable experience to these young adults. Projects such as building, repair, and maintenance provide tremendous benefits to the schools since the local communities and government simply do not have funds to do these things., Best of all, with each group project, you will be helping spread hope and opportunity for a better future for Nicaragua´s youth.
We've prepared a Powerpoint presentation in PDF format that you can view or use for your group.  Download or view the presentation with this link.
FAMILY VOLUNTEERING – FAMILIES FOR FAMILIES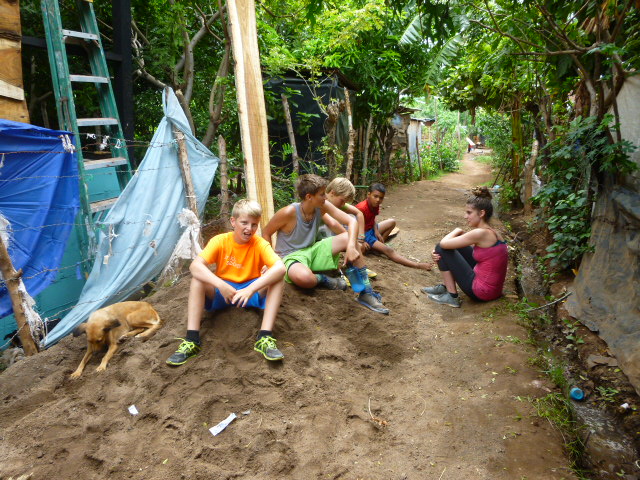 Our main focus is always education, however we recognize other desperate needs of the communities where we work. We believe that in providing assistance to local families, this will support and promote a healthy family environment for our students. Through the Families for Families program, you can work together with your family and help a local family living in poverty to improve their home. Your level of participation is up to you, both financially and physically. A typical family volunteer stay ranges from three to five days (continuous or split).
With a contribution of between $500 to $3000, the housing situation for a local family will be greatly improved.  For example, $500 can provide some much needed repairs, $2500 will build a whole new house, and $3000 would also include new beds. The minimum requirement is $300 per family, which includes a $50 contribution to the administrative costs of La Esperanza Granada. The remaining funds would then be used to purchase materials needed for your home improvement project of choice.

Low school attendance rates are one of the major failings of the Nicaraguan educational system. To encourage attendance, the Families for Families program uses a raffle system to select a local family, and free raffle tickets are given to families whose children have good school attendance. Each family chosen will make a wish list of home improvements. La Esperanza Granada will send this list (with cost estimates) to your family as well as photos of your sponsored family and their home. You can then chose how much you would like to do, and how involved you would like to be in the improvement process. Rest assured, any involvement will be warmly welcomed and greatly appreciated. Some visiting families want to work alongside their local family, all day every day, while other prefer to take before and after photos, bring the local family into town for ice cream, and spend some free time together. It is up to you to chose what is best for you and your own family.
One of our local volunteers will take you out there each day and stay with you to help with anything you might need. Your local family will most likely not speak English, so your ayudante will be very helpful in communication, introducing your to the family, and helping you in your work.