What is the HSS Program?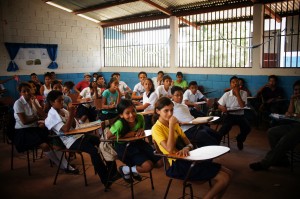 We first started the High School Sponsorship Program at the beginning of the 2005 school year. By offering students the opportunity to attend high school, we are giving these young people an achievable goal to aim for. One of the reasons only some 30% of Nicaraguan children complete primary school, is that they don't expect to be able to afford high school or even dream of university. High school runs for five years. Without sponsorship many of these children would not be able to attend even the first year, as the extra financial strain on their family would be too great.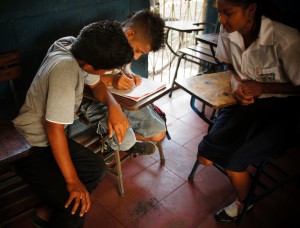 The HSS Program is for children who have completed the six years of primary school and want to attend high school. Children who accept a sponsorship sign an agreement that they will put their best efforts forward and attend each day. They also agree that they will attend two hours of extra study classes after school four days per week.  During the study classes they have the opportunity to learn computer skills and do their homework with their teachers on hand for help and guidance.
What can I do to help?
As a sponsor you can make a real difference in a young person's life. You give a student the chance to think about the future and the possibilities it has to offer. It can be a very rewarding experience to both the sponsor and the student. You get to know a bit more about our students' lives and you make sure your money is actually making a difference.
How much does it cost and what is included?
For the 2014 school year the cost for a high school sponsorship is $185 for the full year. When choosing a student it is a five year commitment, but we do prefer that you pay year by year, as costs may rise. At the start of the school year we fit the students with uniforms, shoes, etc., organize the books and school supplies they need, and complete all the registration forms necessary. There is a lot of bureaucratic red tape involved that their families may not be able to manage without help.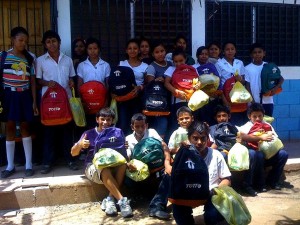 This is what the sponsorship covers:
uniform
backpack
shoes
school supplies
dental check-up
eye check-up and glasses if needed
two excursions
Where does my student go to school?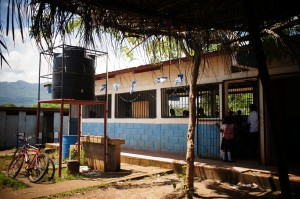 The high school that these sponsored students are attending is a technical high school that opened in 2012. We are very proud of 'Nueva Esperanza Secundaria' (New Hope High School) which we built with the collaboration and help of many donors and groups. It is run by the local Ministry of Education though we continue to give support. Young people will have the chance to learn trades in the higher years at this school, but can also go on to university if they are able.
Their school hours will be from 7:00am – 12:00pm, and we pay teachers to run the afternoon sessions from 1:00pm – 3:00pm. Once a child is attending secondary school, we monitor their attendance, and their levels in tests. We do our best to ensure that young people starting high school will continue through five complete years.
What if my student fails?
A passing grade is required each year in all subjects, including conduct for students to continue in high school. If they are failing in only one or two subjects, but trying hard, they will be offered the opportunity of extra study and retaking their exams. Students may drop out because it becomes too difficult, because they receive a job offer, or because their families move from the area. If your student doesn't continue for any reason, you will have the option to choose to sponsor a new student if you wish. Even if your student doesn't complete, it is important to remember that even a minimum amount of time in high school will have had a positive influence on this young person's life.
Can I get in touch with my student?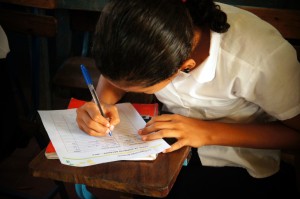 Of course! We ask every student to write a letter to their sponsor at least twice a year, and also send new sponsors a welcome package with more information about the program and the student. Copies of report cards will also be emailed to the sponsor on a regular basis. Sponsors are encouraged to send letters and pictures back to their student. Students get to express their gratitude and tell you something more about their lives, while you get the chance to let your student know who you are and how much it means to be able to offer them this amazing opportunity.
Interested?
Please complete our online application form or, if you have any questions, send us an email: [email protected]