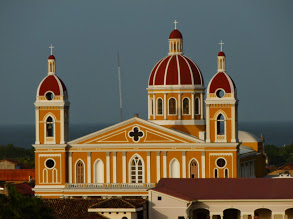 One evening in the summer of 2002, a group of travelers were chatting at a well known hostel called Hospedaje Central in Granada, Nicaragua. Among the group was Bill Harper, the fascinating and charismatic owner of this establishment, who had more tales to tell than even the most exotic traveler. Bill told the travelers how his friend, Karin Eijlders from the Netherlands, received money from her family to help the poor children in Nicaragua. Along with a few Nicaraguan friends, Karin visited the village of La Prusia just outside Granada. She told all the families that she would buy shoes and uniforms, backpacks and school supplies for their children so that they could attend school. In an attempt to help the village and its school, this generous act resulted in chaos.
The school, which had only two teachers for 50 children, was suddenly overrun with a hundred students. At the hostel that night, Bill expressed what was to become the motto of La Esperanza Granada: These people need a hand up, not a handout. The young travelers, listening intently, said, "We can help!" And so La Esperanza Granada was founded.
There was no grant from a foundation; there was no initial sum of money from some well-meaning philanthropist, no mission group, no long planning sessions working on theories, etc. There were simply people who cared and were willing to contribute their time, enthusiasm, and expertise.
In the years that followed, many people, including locals and travelers, volunteered their time and money. There are too many individuals to mention here, but we should name a few. In the early days of La Esperanza Granada, the local supporters, such as Bobby, Dennis, Steve, Cheryl and Wayne, helped get development projects going. They worked to restore the water system for the village of La Prusia and were constantly on hand to help and guide the stream of passing volunteers. Flor and Rachel, who remain on the Board of Directors today, were part of the founding group of volunteers.
Original volunteers such as Sarah, Adam and Julia were there too. Romeo and Bianca kicked off the original website, which gave La Esperanza Granada a face on the internet, and hence, access to more volunteers. Then came people like Mark, who offered to pay for an extra teacher, and friends from Florida, Pete, Judy and Charlie, who came down each year to work on the school using funds they had raised back home. Molly was the first volunteer coordinator; Eric and then Anja succeeded her. Pauline arrived on the scene just in time to volunteer as project director after Bill died in December 2004. All of these people, and the countless volunteers who started trickling in five years ago, are now a broad river of caring people – this is the history of La Esperanza Granada.
William Robert Harper (Parker) (1946 – 2004)
"The phrase "we hardly knew ya" is a common eulogy in many areas, and never was it more truly applied than to the life of the man known as Bill Parker (also known as Bill Harper, I never was sure which was correct)." -N. David Owens, La Esperanza Volunteer, 2002
In the early morning hours of December 25th, 2004, the co-founder, director, leader and most importantly, the face of La Esperanza Granada passed away after a 4-month battle with cancer and related illnesses at the age of 58. He is missed and will be forever by his family, his friends and by the many individuals that he positively influenced through La Esperanza Granada.
On February 3-4th, 2005 hundreds of individuals congregated in front of the Hospedaje Central on Calle Calzada in Granada to celebrate his life at a memorial service. The service began in Granada on the 3rd and was complete with speeches from teachers at the pueblo schools and a gathering of friends and family. The next day began by all those present following the ceremonial horse-drawn carriage to the church for mass, then a select few family members, friends and even children from the schools in the project; all went to Nopales to scatter his ashes on the beachfront and commemorate him and the memories that he provided.
Much speculation arose after Bill's death about the future of La Esperanza Granada. Many people wondered if the organization would continue. After deliberation, the Board of Directors decided that we must move on and work hard to become an accountable, solid, responsible, well-run organization. After the initial sting of Bill's passing was behind us, we decided that it was time to move forward and to continue to offer volunteers from all over the world the opportunity to work together with the pueblos on the outskirts of Granada to take part in the organization of sustainable projects aimed at the improvement of living standards and the educational advancement of the children of these pueblos.
We will miss you Bill and we hope that you are resting peacefully and looking down on us lovingly, jokingly and even critically as to still impose your vision and wishes upon us…
Farewell Don Bill de la Mancha.