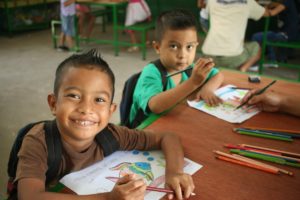 Join us on an exploration of local communities in and around Granada, Nicaragua for a truly authentic experience. On our short walking tour you'll explore one of the impoverished communities where we work. La Esperanza Granada is a volunteer organization that works to improve the lives and education of some of Granda's most impoverished children.
Tour Details
We'll visit Nueva Esperanza to give you insight into the lives of these hard working Nicaraguans. We'll stop along at one of the schools we have built for the community, and one of our learning centers where volunteers provide interactive and engaging activities for afterschool learning.
These walking tours are available Tuesday to Friday at 9:30 AM and 1:30PM, for about two hours.
The cost is $5.00 for transportation per person.
Or visit our office and let us know when you would like to go.
Contact us with questions
+505 8913 8946 or come into our office on Calle Libertad #307 which is 1 ½ blocks east of Parque Central or you can email us for more inforamation: [email protected]
Volunteer with us
We're always looking for new volunteers and all of our positions are available on a rolling basis throughout the year. Volunteering with us is a great way to experience the culture and everything Nicaragua has to offer while making a lasting and positive impact in our community.
Click here to learn more about volunteering