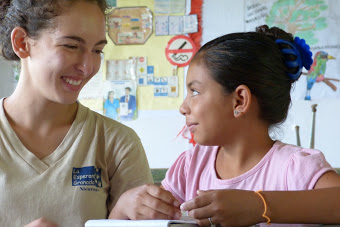 Volunteers are the life of La Esperanza Granada and the time given by those who are willing to help us in our aims to improve the quality of life in the villages where we work is greatly appreciated.
There are no fees charged to volunteer with La Esperanza Granada. You will have to pay your own cost of living and your own transport. We ask each volunteer to make a $20 contribution to help with administration costs. You are not required to do fund raising, though of course it is welcomed.
We ask that you have an intermediate or higher level of Spanish. All of our work in the schools and the villages is conducted in Spanish and in fact there is very little English spoken in Nicaragua. We will often accept beginners in Spanish providing that they intend to study while they are here and are staying long-term.
There are usually 20 – 40 volunteers from all over the world. Most come individually, sometimes with a friend, and sometimes couples. They work in teams, whether they are working as kindergarten assistants, tutoring the small children in primary schools, teaching English in the schools,  in community research, with children's activity groups, playing sport etc. Volunteers are never sent out into the community on their own and you will always have others to share the problems/joys and experiences with.  Volunteers are assisting the local teachers, helping in the schools, or at times in our office, and volunteers are actively working, however as a volunteer you are not replacing an employee, or taking a job away from a local person.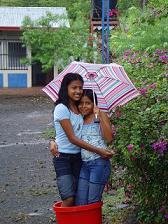 Most of volunteers are working in the schools with young children. As well we need volunteers for translation, promotion.   By reading our 'Volunteer experiences' you will see that for many it is a very special part of their life to have spent time helping the friendly children of this fascinating country. The poverty that exists does not dampen the spirit of the Nicaraguan people. There is a wonderful contrast of life lived at a slower pace, and yet bursting with activity, music, crowds of people, and always the unexpected. There is an abundance of parades, processions, fireworks, etc., and lots of opportunities to discover something new.
In addition to the experience of being steeped in the culture of Nicaragua you are also side by side with your fellow volunteers with cultures as diverse and as contrasting as the local culture is to newcomers.
An average volunteer day would consist of approximately 5 hours of work in the school/community, an hour of traveling to and from the villages, and additional time spent with your fellow volunteers planning for the coming days, discussing the day that has passed, etc. There is one meeting every Tuesday evening to attend where we all get together. Otherwise evenings and weekends are free to enjoy. There are also lots of long weekends here in Nicaragua when most volunteers travel to see other parts of the country.
We have some volunteer housing available (thanks to one of our donors making this available to us). Accommodation in the volunteer houses costs $23 per week in a shared room, and $43 – $46 per week in a single room (plus some rooms for couples which are $46 per week). Have a look at our useful information page which will give you more information about the cost of living in Nicaragua. Also feel free to e-mail any of those volunteers who have given their e-mail addresses, we have a list of recent volunteers at the bottom of the useful information page.
There is no obligation to stay in the volunteer housing, some people choose to stay in a homestay, (usually $100 to $120 per week) or some who are here long term may rent a small house. One thing we ask however, is that volunteers do not stay with families in the villages where we work. We feel aside from the cultural impact on the villagers and potential social problems, this can also lead to an unsustainable dependence on income gained from volunteers, so does not fit with the ethics of our organization.
If you are interested in volunteering with La Esperanza Granada follow this link to download a copy of our Volunteer/Internship Enquiry form. Please fill in the Volunteer Enquiry Form and email it to us. We will be happy to hear from you and will reply as quickly as possible.
We are happy also to work with your college should you wish to complete an internship with La Esperanza Granada, and many students of International Relations, Languages, etc. have done so. We have hosted many successful internships.
For any other questions please e-mail us at: [email protected]
and we will answer you promptly.